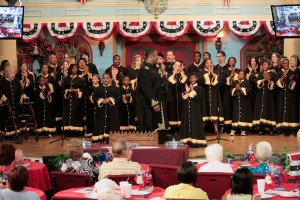 Die Fourth of July Feier am Morningside endete mit mehr als einem Konzert.
Es endete mit einer Feier von der erlösenden Macht Jesu, wenn Tammy Bakker Sue die Bühne für ihr erstes Konzert Auftritt in acht Jahren!
The evening began with Pastor Jim Bakker taking the stage to welcome the crowd and talk about the joy of a great week at Morningside. Er dankte allen für ihre treue Teilnahme an den Veranstaltungen und dann eingeführt Pastor Cedric Hayes und der Master-Chor.
Der Chor riss durch leistungsstarke Interpretationen von "Allmächtigen", "Wer ist auf der Seite des Herrn" und "Clap Your Hands" vor Pastor Hayes schnappte sich das Mikrofon.
He proclaimed a word over Pastor Jim about the future of Morningside, the choir and that if Pastor Jim stays true to the vision God's given him to build, the Lord will bring the people to run the ministries that will be housed in those buildings.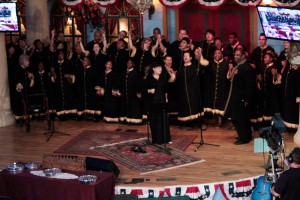 As the choir slowly made their way off the stage and the band lightly played the lights dimmed. Those in attendance began to roar as Tammy Sue Bakker opened the door to the backstage green room and walked to center stage.
Surprising many in attendance, she sat in a chair and began by thanking everyone connected to the Morningside Fourth of July Celebration. She then thanked the partners and invited everyone to take communion which she had set up at the front of the stage.
"Tonight is not about my return to the stage or the music or anything,«, Sagte sie. "Tonight is all about celebrating Jesus."
Dann begann sie zu ihrem Opener "The Blood" singen und brachte viele in dem Haus zu Tränen. Als das Konzert beendet seine Verwandlung in einen vollwertigen Gottesdienst, die Gegenwart des Heiligen Geistes ständig wuchs. As Tammy started to sing "He Didn't Throw The Clay Away" a wave of power swept over everyone that brought Pastor Jim and Lori to tears. Der Klang des Publikums singen zusammen mit Tammy fast überwältigte sie steigenden Gesang.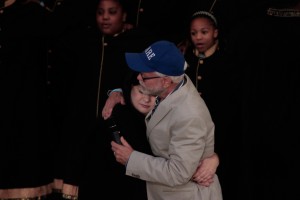 Als Dienstleister mit Tammy Sue beendet und der Master-Chor weht der metaphorischen Dach aus Gnade Straße mit "We Will Stand," Pastor Jim took to the stage and began to speak to the crowd.
Er begann mit einem Dankeschön an alle, und dann plötzlich sprach Worte der Heilung über Menschen anwesend. Prophetic words about the future of the country and the way God wants to move in the lives of His people. By the end of his talk, an hour had flown past and everyone was craving more of the word that the Lord had dropped upon Pastor Jim.
There was no better way to see a Spirit-filled Fourth of July celebration end than celebrating friends, family and Jesus tonight on Grace Street.