Anoche, el Espíritu Santo cayó sobre los asistentes a un servicio especial dirigido por el Pastor Lloyd Zeigler, Bill Mulder y los miembros del equipo de la Comisión del Maestro líderes de adoración.
Después de una poderosa apertura de la adoración que se extendió mucho más tiempo de lo que nadie había planeado, Pastor Ziegler compartió una poderosa palabra acerca de las cadenas que los lugares del enemigo sobre nosotros y el significado de Jesús pagando el precio por nosotros.
"Yo estaba en Memphis, Tennesse,", Dijo el pastor Ziegler, "and a friend showed me an auctioning block, a monument that was created around a block where slaves were sold. As I stood there and looked at it, mi amigo, who was African American, smiled and told me something significant about that block."
"Z," my friend told me, "whenever they sold the slave they would take off the chain because whoever bought the slave got the slave without the chain," Pastor Ziegler shared. "You were ransomed by Jesus. He paid the price for you so that your chains would be taken off because Christ now owns you. And when He paid for you, the enemy had to unlock the chain. He didn't break it. He made the enemy loose the chains they had around you and let them fall to the ground!"
Over the next few hours, everyone in attendance had prophetic words from the Lord rain down upon them. Many were moved to tears as God's love and grace powerfully moved throughout Grace Street.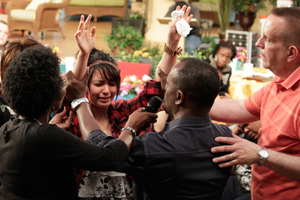 "Morningside is a place where grace takes away chains,", Dijo el pastor Ziegler. "Cry out 'Ransom me, Dios!' and He will order the chains that are on you to be released!"
Esta noche, en la calle Gracia, you could almost hear the chains that had been released from those who accepted that word.