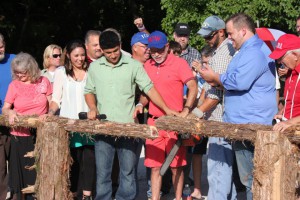 The wilderness campground officially opened this morning as Pastor Jim and a group of friends and campers opened it as well as the brand-new beautiful pool and the stunning shower house by cutting through a log with a chainsaw instead of just snipping a ribbon.
Maintenant, votre famille pourra s'amuser pendant des heures dans la piscine chaque fois que vous visitez! Tout ce que nous pouvons dire est: «Si ce n'est désert, c'est le meilleur orné-désert que nous ayons jamais vu!"
Pastor Jim, Lori et le personnel sont heureux d'obtenir la semaine de la quatrième des célébrations de juillet en cours avec ces grands nouveaux ajouts à la Morningside paysage!