"C'est la voix de celui qui crie dans le désert: Préparez le chemin du Seigneur. Faire la droite de la route pour lui. Chaque vallée doit être rempli, et chaque montagne et doivent être réalisées à plat. Routes avec des virages doivent être faites directement, et les routes rugueuses doivent être égalisées. Et tous les gens connaîtront le salut de Dieu!'" – Luke 3:4-6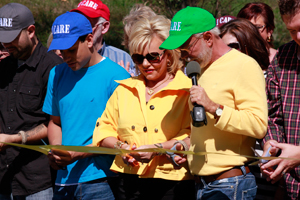 Aujourd'hui pasteur Jim & Lori Bakker a célébré la fin de Legacy route, the road to Lori's House. God talks about roads over 475 fois dans la Bible, et en tant que pasteur Jim, a déclaré aujourd'hui, "Vous ne pouvez pas vous rendre à votre destination sans une route." Roads are essential to prepare the way for what is to come. All of us are called to be like John in the road-smoothing work of making it easier for people to come to know Jesus. Here at Morningside, our road-smoothing will literally help to save lives!
Pastor Jim and Lori asked all in attendance to pray and lay hands on the road that will soon be used to bring pregnant women and their unborn babies to Maison de Lori.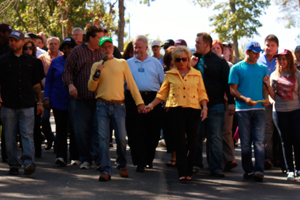 Après la coupe du ruban, Pastor Jim et Lori, avec le personnel, bénévoles, et les partenaires de visite marchaient le 1.4 mile road as a grand opening. This group of people represent a few of the many out there who believe in the ministry and restoration that Maison de Lori will soon bring and have said so with their prayers and their financial support. We could not have done this without them!
Un signe sera placé le long de la route qui comprend les noms de tous ceux qui ont rejoint le "Vallée de marcheurs du Club" et parrainé cette grande route.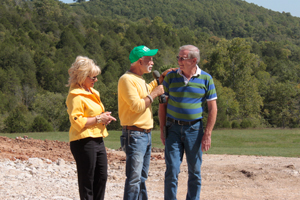 Pastor Jim and Lori then met up with Pastor Rick Morrison at the Maison de Lori site where they are currently working on leveling and preparing the ground for the foundation to be poured. We are coming ever closer to the reality of saving lives and ministering to young women in this great charge that was prophesied and commissioned by the Lord's prophets.
Pas-à-pas, la vision de Maison de Lori arrive à passer!