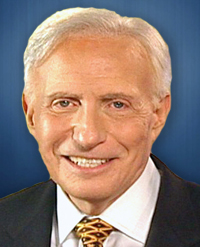 It's going to be supernatural on Grace Street Wednesday, June 6th when Sid Roth, host of the acclaimed program "E 'Supernatural!" joins Pastor Jim and Lori Bakker for a special live show taping of The Jim Bakker Show.
Sid Roth grew up in a traditional Jewish home but found religion provided him no answers when his world collapsed around him in 1972. With a career and marriage in shambles, Sid had an encounter with Jesus that set him free from demonic oppression and opened a path to bringing the good news of Christ to Jews who didn't know Him as Messiah.
In 1977, Sid began the influential radio program "Messianic Vision" where he would interview Jews who, like him, had discovered the truth of Christ as Messiah. Nel corso degli anni, the program has expanded to include healing miracles, supernatural encounters with God, intimacy with God and prophecy. Through it all Sid has clung to a belief that he is called to bring the good news to his fellow Jews first as it says in Romans 1:16.
Fifteen years ago Sid began his television ministry "E 'Supernatural!" The program expands on the radio show's call "al primo Ebreo" and expands on many of the topics that are mentioned on the radio show. The television show allows Sid more time to investigate and celebrate the powerful workings of God in our lives.
We're excited to bring this incredible man of God to you from our studio at Morningside. Make plans to join us Wednesday, June 6th on Grace Street for a live show taping of the Jim Bakker Show starting at 11:00 a.m. Tempo Central. Se non puoi essere qui di persona, you can watch Sid and share in his wisdom on our in diretta streaming web.