"To jest głos, który woła na pustyni: Przygotować drogę dla Pana. Zrobić dla niego prosta droga. Każda dolina powinna być wypełniona, , a każda góra i pagórek powinny być płaskie. Drogi z obrotów powinny być proste, i wyboistych drogach powinny być gładkie. I wszyscy ludzie będą wiedzieć o zbawienie Boga!'" – Luke 3:4-6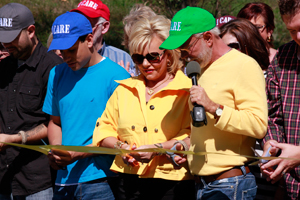 Dziś Pastor Jim & Lori Bakker obchodzone na zakończenie Drogi Legacy, the road to Lori's House. God talks about roads over 475 razy w Biblii, i jak Pastor Jim stwierdził dzisiaj, "Nie możesz dostać się do miejsca docelowego, bez drogi." Roads are essential to prepare the way for what is to come. All of us are called to be like John in the road-smoothing work of making it easier for people to come to know Jesus. Here at Morningside, our road-smoothing will literally help to save lives!
Pastor Jim and Lori asked all in attendance to pray and lay hands on the road that will soon be used to bring pregnant women and their unborn babies to Dom Lori.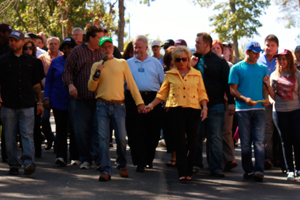 Po wstęgi, Pastor Jim i Lori, wraz z pracownikami, Wolontariusze, i partnerzy odwiedzający wszedł 1.4 mile road as a grand opening. This group of people represent a few of the many out there who believe in the ministry and restoration that Dom Lori will soon bring and have said so with their prayers and their financial support. We could not have done this without them!
Znak zostanie umieszczony wzdłuż drogi, która zawiera nazwiska wszystkich osób, które dołączyły "Klub Dolina Cienia" i tę wielką drogę sponsorowany.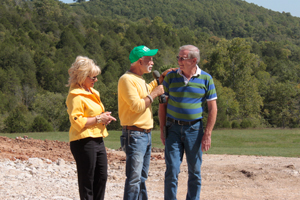 Pastor Jim and Lori then met up with Pastor Rick Morrison at the Dom Lori site where they are currently working on leveling and preparing the ground for the foundation to be poured. We are coming ever closer to the reality of saving lives and ministering to young women in this great charge that was prophesied and commissioned by the Lord's prophets.
Krok po kroku, wizja Dom Lori zbliża się do przejść!