Rarely does a piece of art completely take your breath away but that's what happened the first time Lori and I saw this beautiful sculpture of The Resurrected Christ by Bertel Thorvaldsen. We were literally awe-struck by the magnificence of it – and what it represents; the One who died and rose again so that we could have everlasting life – Jesus, The Resurrected Christ!
I saw this amazing sculpture in a beautiful cathedral years ago and I'll never forget the way it made me feel. This is one of the few times in my life that I nearly stumbled backwards in awe and I didn't want to leave!
Though I didn't know how it would be possible, the desire of my heart when we first saw The Resurrected Christ was to someday have one like it erected at Morningside. That day has come! Standing over 15 feet tall and weighing over 12 tons, The Resurrected Christ is now set in place at Morningside! The sheer magnificence of it dominates the atmosphere on Grace Street!
We are living in a day when the world is trying to erase any remembrance of our precious Lord Jesus. Crosses and nativity scenes are being prohibited – and even the mention of the name Jesus is forbidden at some activities. It is shameful! But at Morningside, our remembrance of Jesus is hard to deny with this spectacular reminder of Him in this exquisite sculpture front and center on Grace Street!
The first thing Lori wanted to do when she saw it was to take Communion, that sacred sacrament that Jesus command the Church to do in remembrance of Him. Just seeing this magnificent marble statue floods you with peace and inspires reflection of the Savior – the risen, living Jesus.
Some people don't like statues, but this is no ordinary statue – it's a symbol and a remembrance of our Lord. Jesus is not just 'some god' – He is our God!
Commonly referred to as the "Christus" in Denmark, The Resurrected Christ is by Bertel Thorvaldsen (ca. 1770 – 1844). Thorvaldsen was born in Copenhagen, Denmark and studied classical sculpture in Italy from 1789–1838. His talent was so apparent and his work was so advanced, he was accepted into the Royal Academy of Arts at age 11! Though not well known outside Europe, in 1896 an American art historian wrote of The Resurrected Christ, it is "considered the most perfect statue of Christ in the world." The original stands in the "Church of Our Lady," a Lutheran Cathedral in Copenhagen, Denmark.
The Johns Hopkins Hospital in Baltimore, Maryland and other locations around the world house full-size replicas of the statue, and now Morningside is honored to be among them.
As the statue was being created for us overseas, they would send me pictures of the progress and I would critique it. It was first molded with clay, and then carved from solid marble. At various points, I would say "the eyes aren't just right" or comment on other aspects of the progression, until the beauty of the original came to life in our reproduction. This process took an entire year, but now that it's finished, I believe this is the only project, upon completion, I can say I am totally pleased with. In fact, it's beyond my expectations!
After it was unloaded from the truck (a process that took half a day), I put my hand into the huge carved hand of Jesus and I could feel the nail scars. I couldn't keep from weeping and I was overwhelmed with the thought that someday I am going to see Him face-to-face.
Getting the statue into place at Morningside was no small feat however! The doors, and even the framing, had to be removed to provide enough room for the statue to be brought into the building. The foundation also had to be fortified to receive it (a prophetic message for our times). It was no great wonder that there was only one company in the entire area that would undertake the challenge of handling such a weighty and magnificent piece and place it safely on its firm foundation.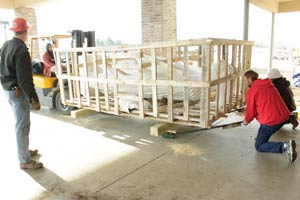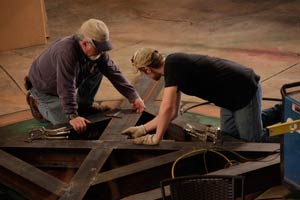 Inch-by-inch, they cautiously raised the statue from its crating and eased it towards the center of Grace Street. "You have to be very careful, because one mistake, just one mistake… and it could be destroyed," said Mondo as he watched the progression. Suspended in the air from a crane, everyone held their breath as it was carefully lifted and positioned over the huge marble base. I couldn't help but think of the scripture, "If I be lifted up, I will draw all men unto me." As it was lowered onto the base, applause erupted from the spectators and we all breathed a sigh of relief!
Jesus was in the house!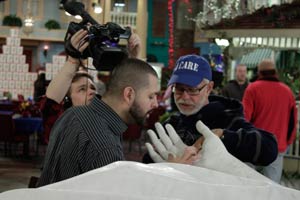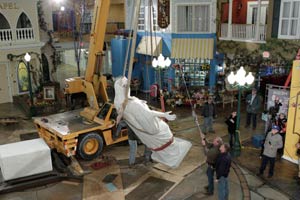 "Breathtaking," said Kevin Shorey. "Pictures aren't enough to tell the story. When you see it live, it's just breathtaking!"
Zack Drew described it as "surreal, awesome." "Right in the center of our daily lives. He's the center."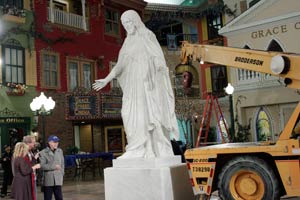 The amazing detail of this statue is seen in the nail-scarred hands and feet of Jesus, and in the place on his side where he was pierced with a sword (Isaiah 53). This beautiful sculpture represents the Love, Salvation, and Grace of our Lord Jesus Christ! As I prayed a prayer of dedication over the statue, we agreed together that it would be a blessing to all who saw it, and that it would inspire people to serve God and to honor Him in every aspect of their lives.
Lori said, "I pray that every single day, that as each one of us look at Jesus, it helps all of us to remember what He's done for us and to live in harmony and in peace and in love with one another, as we love Him."
When I asked Grandma Char what she was thinking as the statue was being raised, she was overcome as she said "this is very emotional," and so it was for all who were there. She went on to say, "this is a symbol; with His arms wide open, of Jesus saying "come unto me, all who are weary and heavy-laden and I will give you rest." Could any thought be more relevant to the tumultuous days we are living in?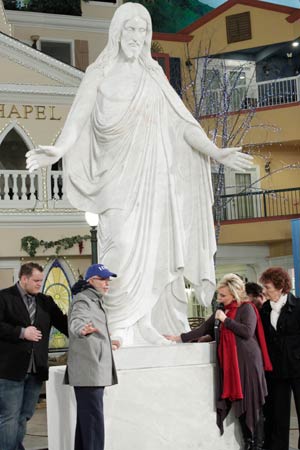 We are so grateful to be able to share this wonderful marble sculpture with all of you. There couldn't be a more appropriate center for Grace Street at Morningside! As we do the program every day, symbolically, this statue represents the fact that Jesus will be looking over us. Everything we do should be centered around Him! There will be prayer benches encircling it for times of prayer and intercession.
The Resurrected Christ was set into place at Morningside on the celebration of our 2,000th show. Now THAT, in itself, is prophetic. Two thousand years ago, a child was born that would save all who would receive Him. His message and His time has come into maturity and His return is very soon.
I believe Morningside is coming into maturity as well. Years ago, they said we couldn't come back – they said we wouldn't be back on tv – and they said we would never minister again. God had a different idea. We have had our challenges and we have fought our battles, but the purposes of God for this ministry have prevailed. As Jesus said, "I will build my Church and the gates of Hell will not prevail against her."
Mondo reminded me recently of the words I had taught him early on: "that which is born of the flesh, the flesh has to maintain. But, that which is born of the Spirit, the Spirit maintains." I hadn't thought of that in years, but it is as true today as it was then. Whatever we do, we must do in the Supernatural Resurrection Power of Jesus, or it will have no eternal value. It's time now to remember Jesus, our First Love, and to do everything we do in honor of Him.
We hope that all who come to visit will be inspired by The Resurrected Christ to draw closer to God and to receive of His Love, Salvation and Amazing Grace!