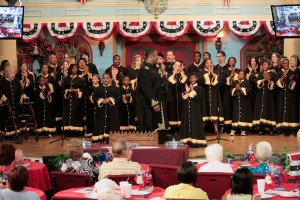 Il quarto di celebrazione luglio alle Morningside si è conclusa con più di un concerto.
Si è conclusa con una celebrazione della potenza redentrice di Gesù, quando Tammy Sue Bakker è salito sul palco per la sua prima apparizione in concerto in otto anni!
The evening began with Pastor Jim Bakker taking the stage to welcome the crowd and talk about the joy of a great week at Morningside. Egli ha ringraziato tutti per la loro presenza fedele agli eventi e poi introdotto Pastore Cedric Hayes e il Coro del Maestro.
Il Coro strappato attraverso potenti interpretazioni di "onnipotente", "Chi sta con il Signore" e "Clap Your Hands", prima di Pastor Hayes ha afferrato il microfono.
He proclaimed a word over Pastor Jim about the future of Morningside, the choir and that if Pastor Jim stays true to the vision God's given him to build, the Lord will bring the people to run the ministries that will be housed in those buildings.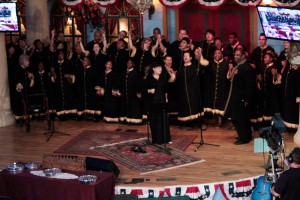 As the choir slowly made their way off the stage and the band lightly played the lights dimmed. Those in attendance began to roar as Tammy Sue Bakker opened the door to the backstage green room and walked to center stage.
Surprising many in attendance, she sat in a chair and began by thanking everyone connected to the Morningside Fourth of July Celebration. She then thanked the partners and invited everyone to take communion which she had set up at the front of the stage.
"Tonight is not about my return to the stage or the music or anything,"Ha detto. "Tonight is all about celebrating Jesus."
She then began to sing her opening song "The Blood" and brought many in the house to tears. As the concert finished its transformation into a full fledged worship service, the presence of the Holy Spirit continually grew. As Tammy started to sing "He Didn't Throw The Clay Away" a wave of power swept over everyone that brought Pastor Jim and Lori to tears. The sound of the audience singing along with Tammy almost overpowered her soaring vocals.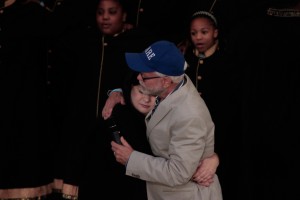 As the service ended with Tammy Sue and the Master's Choir blowing the metaphorical roof off Grace Street with "We Will Stand," Pastor Jim took to the stage and began to speak to the crowd.
He started with a thank you to everyone and then suddenly was speaking words of healing over people in attendance. Parole profetiche sul futuro del paese e il modo in cui Dio vuole muoversi nella vita del suo popolo. Entro la fine del suo discorso, an hour had flown past and everyone was craving more of the word that the Lord had dropped upon Pastor Jim.
Non c'era modo migliore di vedere un quarto ripieni di Spirito di luglio celebrazione fine di festeggiare gli amici, famiglia e Gesù stasera su Grace Street.