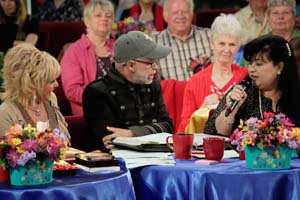 Wir haben gerade mehrere Shows mit Tammy Sue und zu sagen, dass wir gesegnet wurden, ist eine enorme Untertreibung. Tammy Geschenk von gesalbt Musik ist ein Geschenk des Himmels für die Kirche und ein greifbares Instrument der Heilung und Wiederherstellung für diese letzten Tage. Sie ist einfach ein "Träger der Gnade." Als Tammy singt, die Fenster des Himmels geöffnet und Gnade fließt an alle, die innerhalb der Klang ihrer Stimme.
Während die Welt um uns herum ist unsicher und Turbulenzen ist überall, Tammy Sue Gesalbten Musik bringt eine wohltuende Ruhe inmitten der Stürme. Tammy ist ein Geschenk an den Leib Christi, die Gott zu uns für eine Zeit wie diese gegeben.
Among the beautiful songs she sang were "There is a River," "The Blood" and "There's Just Something About That Name." And we won't soon forget her own special rendition of "Amazing Grace" that she sang especially for her Father. Pastor Jim shared that having her here with him is a fulfillment of prophecies over his life about restoration, und great comfort.
Tammy testified of her time in isolation and how she had been called back into active ministry by the Lord. She said the devil will use anything he can to derail your destiny and keep you bound in fear. Tune in to the regular scheduled broadcasts to find out what kept her away for far too long. Tammy said she just "knew that she knew" it was time to come back but it was a tremendous feat for her to overcome her fears and obey the Lord. She encouraged everyone not to let anything get in the way of what God has called you to do.
Während der Show, Tammy and her Dad recalled the trauma that their family endured over the past 25 Jahre, and testified of how God had sustained them through it all. Heute, they are living proof that God will use what others meant for evil, for good!
Many tears were shed on Grace Street this week. If you missed the live show tapings, you will not want to miss these shows when they air on the regular scheduled broadcasts on television.
We are looking forward to more of the ministry of Tammy Sue in word and in song.
Welcome back, Tammy Sue!