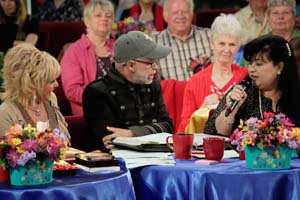 Nous venons de terminer plusieurs spectacles avec Tammy Sue et de dire que nous avons été bénis est un énorme euphémisme. Le don de la musique oint de Tammy est une aubaine pour l'Eglise et un instrument concret de la guérison et de restauration de ces derniers jours. Elle est tout simplement un «porteur de la grâce.« Quand Tammy chante, les écluses des cieux sont ouverts et les flux de grâce à tous ceux dans le son de sa voix.
Alors que le monde autour de nous est incertaine et l'agitation est partout, La musique oint de Tammy Sue apporte une paix apaisante dans le milieu des tempêtes. Tammy est un cadeau pour le Corps du Christ que Dieu a donné à nous pour un temps comme celui-.
Among the beautiful songs she sang were "There is a River," "The Blood" and "There's Just Something About That Name." And we won't soon forget her own special rendition of "Amazing Grace" that she sang especially for her Father. Pastor Jim shared that having her here with him is a fulfillment of prophecies over his life about restoration, et un great comfort.
Tammy testified of her time in isolation and how she had been called back into active ministry by the Lord. She said the devil will use anything he can to derail your destiny and keep you bound in fear. Tune in to the regular scheduled broadcasts to find out what kept her away for far too long. Tammy said she just "knew that she knew" it was time to come back but it was a tremendous feat for her to overcome her fears and obey the Lord. She encouraged everyone not to let anything get in the way of what God has called you to do.
Pendant le spectacle, Tammy and her Dad recalled the trauma that their family endured over the past 25 ans, and testified of how God had sustained them through it all. Aujourd'hui, they are living proof that God will use what others meant for evil, for good!
Many tears were shed on Grace Street this week. If you missed the live show tapings, you will not want to miss these shows when they air on the regular scheduled broadcasts on television.
We are looking forward to more of the ministry of Tammy Sue in word and in song.
Welcome back, Tammy Sue!