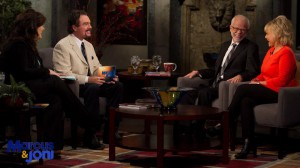 It was a great show as Pastor Jim and Lori Bakker were interviewed on the Daystar television network by Marcus and Joni Lamb on the "Marcus & Joni Show" February 11th, 2013. Marcus told Pastor Jim how his life and ministry has been a great inspiration to him personally and thanked him for his contribution to Christian television, by which the Gospel is now being preached throughout the world.
In a demonstration of support for their ministry, Marcus and Joni surprised Jim and Lori with a check for $10,000 for Lori's House!
Marcus was so excited to show Jim the 1985 PTL Bible that Jim had signed to him and which he had placed on the set of their show every day for all these years. Marcus and Joni recalled how Pastor Jim's ministry had impacted their lives over the years.
Viewers also called in with endearing memories of the impact of Pastor Jim's ministry over the years. Many said they came to Jesus through the ministry of PTL, while others testified of how they were encouraged in the trials of their faith by hearing something ministered through one of Jim's television programs.
Jim's vision for Christian television was born out of the God-given mandate to "bring all Christians together" regardless of background or denomination.
Throughout the show, they discussed the various aspects of Pastor Jim's ministry, past and present, which includes over 50 years of groundbreaking and pioneering in Christian television, a leading authority on the Book of Revelation, saving innocent lives through abortion alternatives, ministry to the broken, and training young people to become Christian broadcasters.
Marcus said that Jim's life and ministry is truly for the days we are living in. With the rapid turn of events in our world every day, Jim's understanding and prophetic warnings of Revelation events are not only timely and crucial, but essential for our understanding of the days in which we live.
While in prison, Jim studied every word of the Book of Revelation extensively and now is recognized as one of today's experts. His most recent book, "Time Has Come" is a "unique, fascinating and insightful opening of Revelation – both timely and accessible," says Jonathan Cahn, author of the New York Times best-seller, The Harbinger.
Lori has also authored a best seller "More Than I Could Ever Ask." Their message is one of grace and total restoration. Millions relate to Pastor Jim and Lori's testimonies of the redemptive power of love.
Pastor Jim says "If God can put our lives back together, then He can do it for anyone."