It was a powerfully hard night on Grace Street as Philip Cameron and the girls from Stella's Voice presented testimonies that forced everyone to confront the reality of human trafficking and orphans in Moldova.
One of the girls, Veronica, shared her testimony in Romanian while one of her Stella's Voice sisters translated for those in attendance. Her tears needed no translation as they melted hearts of those who saw the pain that is inflicted upon a young girl made to feel worthless by those who should love her the most.
By the end of her story, she shared the way Jesus transformed her and how appreciative she was of those who have welcomed her.
"Thank you for accepting me in America," Veronica said.
Philip shared about the Stella's House girls who are leading a summer camp and how they've taken in 11 girls this summer to fill the beds of the girls traveling with him across America. Two of those girls have already accepted Jesus as Lord!
The girls also did what they call a "human video" where they lip sync to a song while performing an interpretive worship dance. Ronnie Freeman's song "Orphan" blasted through Grace Street as the girls wrapped themselves in sheets that read "ORPHAN" in big letters. The girls then progressively throw off the label of orphan and raised hands in worship to the one who has taken them in as their Father.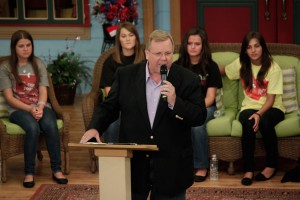 Philip Cameron then took to the pulpit to address the congregation.
"He would not have taught me to trust in His name, and thus far have brought me to put me to shame," Philip said as he began to share the word God gave him.
He then gave a message to the crowd to tell them that promotion comes from God and not from man. No matter what someone around you might say about something you feel called to do if the Lord called you to it then you will have it happen as the Lord calls for it to happen.
"But it's not your talent," he said. "The Lord sees your heart before He sees your talent. Piano players are a dime a dozen. We've learned to play like the world. We've learned to sing like the world. But it's not the gifts and talents because it's the Spirit that breaks the yokes on men."
"The devil tempts you to make you fail," Philip said. "The Lord tests you to make you stronger."
He brought up the example of David before the battle where he would face off against Goliath. He said that his father told him to take supplies to his brothers the next day. David, instead of sleeping in or taking it easy, arose early and then ran to the battle because his father told him to run.
"If you ever want to be used by God," he said, "then when he says run you run. You don't walk, you don't put it off, you run."
Philip then expounded upon the story of David and the impact that came from his slaying Goliath.
"David didn't just slay Goliath," he said, "he gained the respect of the Army of Israel."
It was a message to power through and do what God calls you to do and in doing that you will gain respect and support to keep on the path God's calling you to walk.