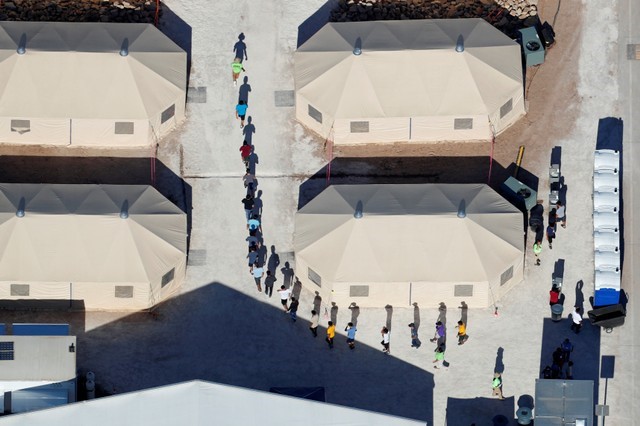 By Jonathan Allen
NEW YORK (Reuters) – Lawyers for immigrant families separated by the U.S. government at the border with Mexico said a federal judge's order barring rapid deportations until at least next Tuesday would give them breathing room as they struggled for access to clients.
The families had been separated amid a broader crackdown on illegal immigration by President Donald Trump's administration, sparking an international outcry and a lawsuit by the American Civil Liberties Union (ACLU). The president ordered that the practice be halted on June 20.
Judge Dana Sabraw, in Monday's order, sided with the ACLU, which argued that parents facing imminent deportation should have a week to decide if they want to leave their children in the United States to pursue asylum separately.
Sabraw asked the government to respond before the next hearing on July 24. Until then, he halted rapid deportations.
The judge's order gave lawyers more time to "figure out what reunification is going to mean for our clients," said Beth Krause, a supervising lawyer at the New York-based Legal Aid Society's Immigrant Youth Project.
In a related ruling in a separate case on Tuesday, the Legal Aid Society won a temporary court order barring the government from moving any of the dozens of separated migrant children the group represents in New York without at least 48 hours' notice.
The order also required the government to say ahead if children were being moved so that they could be released, detained with their families, or deported.
Legal Aid had asked for an emergency injunction, arguing that the government was swiftly moving children and parents without giving them time to speak to lawyers about the possible legal consequences, including removal from the country.
At least two of its young clients had been due to be moved to a detention center in Texas that was not licensed to care for children, the group said, and other children were due to be moved to undisclosed locations.
"This information is crucial for our clients – many young children who already suffered enough trauma – to make informed decisions about pursuing asylum or other forms of relief," Adrienne Holder, the lead lawyer at Legal Aid's civil practice, said in a statement.
U.S. District Judge Laura Taylor Swain in Manhattan said the order expired on Thursday unless extended or modified by another judge, and that it applied only to Legal Aid's clients and not to all separated children.
A hearing in the Manhattan case has been scheduled for Tuesday afternoon before U.S. District Judge Jesse Furman.
Jorge Baron, executive director of the Northwest Immigrant Rights Project, said Judge Sabraw's broader ban on rapid deportations "buys us a little bit of time."
"I am still uncertain we have made contact with all the parents who are detained in our particular region," he said.
Baron's group has secured legal representation for several dozen separated parents sent to government detention centers in Washington state. But even on Monday, he said, he learned of an immigrant mother who had yet to make contact with a lawyer.
"She might have slipped through the cracks," without the judge's order, Baron said.
Last month, Sabraw set a July 26 deadline for the government to reunite children who were separated from their parents at the border with Mexico. Many of the immigrants are fleeing violence in Guatemala, El Salvador and Honduras.
(Reporting by Jonathan Allen in New York; Editing by Bernadette Baum and Rosalba O'Brien)