The graduates of Master's Media sat down with the Jim Bakker Show web team to talk about their time at the school and what is coming up next in their lives:
What is your biggest accomplishment during your time at Master's Media?
.
.
Zach Drew: The power of perseverance!  How important it is to keep striving for the promises God's given me no matter the circumstances.
..
..
.
.
Jillian Flischel: Learning how to run a studio camera.
.
.
.
What was your most difficult challenge during your time at Master's Media?
.
.
Jerrick Wright:  Living with roommates!  It was a first and hopefully last!
.
.
.
.
Nolan Schmidt:  Letting go of things and realizing that I don't have to do everything myself.
.
.
What is your favorite memory of your time at Master's Media?
.
.
Janet Lee Robinson:  Going to Conway, Arkansas for a conference.  The Ramp was there and I had an amazing experience with God.
.
.
.
Aneeca Sirbaugh: One time we had a free day.  We got together and started to rap and sing songs that we made up out of nowhere.  A woman came over and said it was like watching a Christian version of "Fame".  That day the Holy Spirit reached us all…it was very spiritual and moving.
.
.
.
Rose Glendenning: Hanging out with friends and getting to know everyone who is connected to Master's Media!
.
.
What would you say to a young man or woman thinking about coming to the Master's Media program?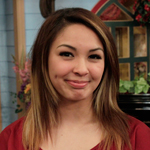 .
Sasha Volz:  We are looking for those who are creative, who are ready to learn and are willing to be taught.  The number one thing over everyone else is that you have to know you are called to be here because if you are unsure at all then you will figure it out very shortly.  You will get worn out and over the hype really quickly.  And be ready to be a 24/7 servant because you never know what you will be doing next!
.
.
.
Andrew Cottrell:  Prepare to work!
.
.
.
Share with us the biggest revelation God gave you during your time at Morningside.
Sasha: It was the realization that I am more than what I give myself credit for.  I now KNOW that I am called by God to do things I never realized was possible and that I am not just another static or girl with a dream.  I realized the dreams and aspirations I've had since I was little are actually all part of God's future for my life!  He's also helped me accept the love, acceptance and encouragement from the people who care about me.
Jillian: That no matter what happens to me, whether feeling good or feeling down, to continue on and not give up.  That God's love and grace never fails and it reminds me to never give up hope because He's holding on and He will never let go.
Janet:  How to trust God with everything and that God has shown me He will always be here with me no matter how many mistakes I make.  That He will always be my biggest cheerleader when no one else will.