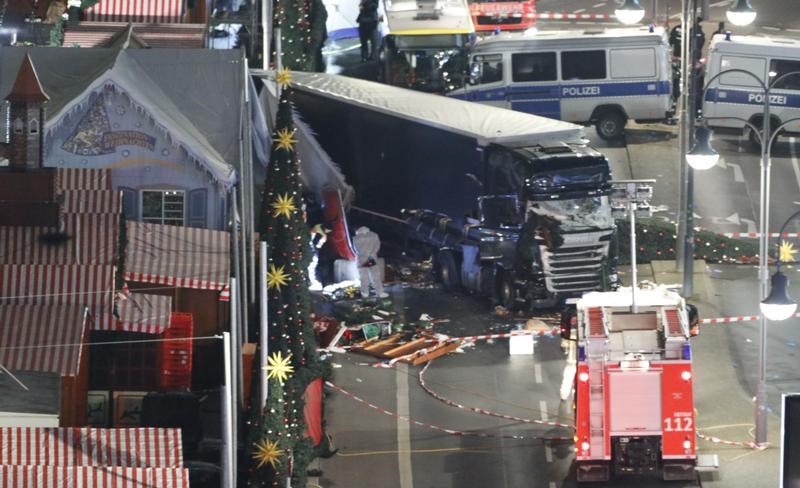 BERLIN (Reuters) – The Tunisian who killed 12 people by driving a truck into a Christmas market in Berlin received his orders directly from Islamic State, a German magazine reported on Saturday.
The militant group claimed responsibility for the attack on Dec. 19, but it was unclear whether it had planned and executed it, or just inspired the attacker with its calls on supporters to hit targets in enemy countries.
Der Spiegel cited information provided to German security authorities from the United Arab Emirates on Jan. 8 that said Anis Amri, the failed asylum seeker who drove the truck into the crowd, had received an order from a squad within IS.
The squad is known to German authorities from other proceedings against suspected IS militants disguised as refugees, the magazine said.
Amri, who had pledged allegiance to Islamic State, was shot dead by Italian police in Milan four days after the Berlin attack. Islamic State said the attack had been perpetrated by an IS "soldier … in response to calls to target nationals of the coalition countries".
The federal public prosecutor's office and the BKA federal police are looking into the information provided by the UAE, the magazine said, adding that German authorities considered the source to be reliable.
When asked for comment, the BKA said the federal public prosecutor's office was responsible for providing information on the Amri case. The prosecutor's office declined to comment.
On Wednesday, the prosecutor's office said it had no evidence that other people based in Germany were involved in preparing or carrying out the attack and an evaluation of Amri's mobile phone showed he had communicated with an IS member abroad before and during the attack.
(Reporting by Michelle Martin; Additional reporting by Holger Hansen; Editing by Robin Pomeroy)