Pastor Jim & Lori Bakker willkommen Kevin Shorey The Jim Bakker anzeigen.
Zitate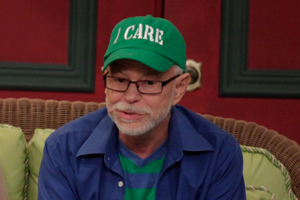 "Be content no matter what happens." -Pastor Jim Bakker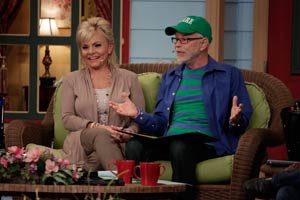 "Cholerics fight. We melancholies think about it and the pain goes internally." – Pastor Jim Bakker
Narrative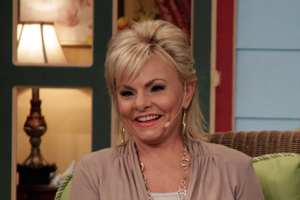 Pastor Jim and Lori Bakker welcome musical guest Kevin Shorey and discuss the topic of contentment, particularly relating to Paul's admonition in Philippians 4:11 that Christians find satisfaction regardless of what conditions in life surround them. Pastor Jim said he awoke recently with that message heavily on his mind. He then shared that an increase in his sugar level has taken place due to stress and concern over the opponents of Lori's House who succeeded in obtaining local government approval to stop construction. Although successful for many years in controlling his diabetic condition through diet and right thinking, he admonished viewers to watch their stress levels because worry and discontent of mind bring on a host of illnesses. He added that all need to learn to lean on Jesus, like the song says.
Lori noted that so many in society rely on medications because of stress. Pastor Jim then acknowledged that even he, as a young man, suffered from panic attacks at a time when work and non-stop ministry activities filled his life. He remembers a doctor saying that no one dies from a panic attack, which he accepted as an encouraging message, yet knew he needed to learn to cast all his cares on the Lord.
From then on he improved his ability to leave his cares at the throne, trusting God to resolve them, yet the attacks against Lori's House moved him away, for a time, from his state of contentment and peace of mind, as he tried to understand why people would fight to stop the building of a home to save innocent babies from abortion. Now in his golden years, he said that at 72 years of age he does not intend to spend the rest of his life fighting opponents but will let Jesus handle his battles. After returning to that mindset, he found inspiration returning to him and has now located a new site for Lori's House that sits on an area of land completely owned by the ministry that nearby residents cannot petition against. If all goes well, and the land can sustain the building, he expects to announce the location and approve the laying of the foundation within two weeks.
The new site, Pastor sagte Jim, looks like it may work even better than the first one, but added that supporters should not fear their donations went to waste. The original plot of land cleared and prepared as the Lori's House location, holds official zoning for farming use, and keeping in line with that, the planting of gardens, trees and crops has taken place in the rich, dark soil there. The Pastor said the ministry may even invest in some cows and other animals. "We've only been delayed,", Sagte er, "not stopped."
Schrift
Hebräer 13:5 Der Wandel sei ohne Geiz, sich begnügen….Denn er hat gesagt,, "Das werde ich nie, nie, dich nie verlassen und ich werde nie, nie, nie im Stich lassen."
I Peter 5:7 KJV Alle eure Sorge auf ihn; denn er sorgt für euch.
Matthew 12:50 KJV For whosoever shall do the will of my Father which is in heaven, the same is my brother, and sister, und Mutter.
Römer 12:19 KJV Geliebte, rächen euch nicht, sondern gebt Raum dem Zorn Gottes;: denn es steht geschrieben, Mein ist die Rache; Ich will vergelten, spricht der Herr,.
Philipper 4:10-12 KJV But I rejoiced in the Lord greatly, that now at the last your care of me hath flourished again; wherein ye were also careful, but ye lacked opportunity. Not that I speak in respect of want: for I have learned, in whatsoever state I am, therewith to be content. I know both how to be abased, and I know how to abound: every where and in all things I am instructed both to be full and to be hungry, both to abound and to suffer need.
Philipper 4:11-13 NCV Ich erzähle Ihnen das, weil ich nichts. Ich habe gelernt, mit den Dingen, die ich habe und mit allem, was geschieht, erfüllt werden. I know how to live when I am poor, and I know how to live when I have plenty. I have learned the secret of being happy at any time in everything that happens, when I have enough to eat and when I go hungry, when I have more than I need and when I do not have enough. I can do all things through Christ, because he gives me strength.
II Chronicles 7:14 KJV Wenn mein Volk, Welches sind nach meinem Namen genannt, sich demütigt, und beten, und mein Angesicht suchen, und von ihren bösen Wegen schalten; so will ich vom Himmel her hören, und ihre Sünden vergeben, und ihr Land heilen.
Isaiah 10:27 KJV Und es wird geschehen an jenem Tage, wird seine Last von deiner Schulter genommen werden, und sein Joch von deinem Halse, und das Joch wird wegen der Salbung zerstört werden.
Genesis 50:20 KJV Du aber, ye dachte Böses gegen mich; aber Gott gedachte es gut zu, zustande zu bringen, wie es an diesem Tag, zu erhalten viel Volks.
John 21:15 KJV Also, wenn sie gegessen hatten, Spricht Jesus zu Simon Petrus:, Simon, Sohn Jonah, liebst du mich mehr als diese? Er spricht zu ihm:, Yea, Herr; du weißt, daß ich dich liebe. Er spricht zu ihm:, Weide meine Lämmer!.
Ich John 4:4 KJV Ihr seid von Gott, kleine Kinder, und haben sie überwunden: weil er größer ist das ist in dir, als er, dass in der Welt.
Sprüche 24:12 NCV If you say, "Wir wissen nichts über diese," Gott, wer weiß, was in deinem Kopf, werden feststellen,. Er is watching you, und er wird wissen,. Er wird jede Person für das, was er getan hat, belohnen.