Pastor Jim & Lori Bakker welcome Philip Cameron, Stella's House, Tammy Sue Bakker, Pastor Cedric Hayes and the Master's Pastor's Choir.
Songs
This is the Way We Praise Him
He Won't Fail You
He Has Done Marvelous Things
The Presence of the Lord is Here
Write the Vision
Scriptures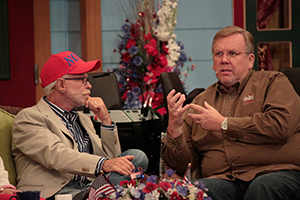 Psalm 22:3 KJV But thou art holy, O thou that inhabitest the praises of Israel.
Zechariah 10:1 KJV Ask ye of the Lord rain in the time of the latter rain; so the Lord shall make bright clouds, and give them showers of rain, to every one grass in the field.
Proverbs 8:12 KJV I wisdom dwell with prudence, and find out knowledge of witty inventions.
Proverbs 24:11 NCV Save those who are being led to their death; rescue those who are about to be killed.