Pastor Jim & Lori Bakker welcome Bobby Conner as they discuss Prophecy and Angels for Day 2 on The Jim Bakker Show.
Songs
When the Role is Called up Yonder
Scritpures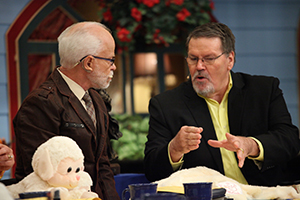 Habakkuk 2:2 KJV And the Lord answered me, and said, Write the vision, and make it plain upon tables, that he may run that readeth it.
Luke 1:41 KJV And it came to pass, that, when Elisabeth heard the salutation of Mary, the babe leaped in her womb; and Elisabeth was filled with the Holy Ghost:
Jeremiah 1:5 KJV Before I formed thee in the belly I knew thee; and before thou camest forth out of the womb I sanctified thee, and I ordained thee a prophet unto the nations.
Matthew 2:13-19 Escape from Herod
Exodus 1:15-22 The King of Egypt Orders Male Babies to be Killed
Jeremiah 29:11 AMP For I know the thoughts and plans that I have for you, says the Lord, thoughts and plans for welfare and peace and not for evil, to give you hope in your final outcome.
II Samuel 24:1-17 David Enrolls an Army in Peace Times
I Corinthians 1:27 KJV But God hath chosen the foolish things of the world to confound the wise; and God hath chosen the weak things of the world to confound the things which are mighty;
Revelation 3:20 KJV Behold, I stand at the door, and knock: if any man hear my voice, and open the door, I will come in to him, and will sup with him, and he with me.
Isaiah 1:18 KJV Come now, and let us reason together, saith the Lord: though your sins be as scarlet, they shall be as white as snow; though they be red like crimson, they shall be as wool.
Psalm 51:7 KJV Purge me with hyssop, and I shall be clean: wash me, and I shall be whiter than snow.
II Corinthians 5:17 KJV Therefore if any man be in Christ, he is a new creature: old things are passed away; behold, all things are become new.
Romans 10:10 KJV For with the heart man believeth unto righteousness; and with the mouth confession is made unto salvation.
Mark 8:38 KJV Whosoever therefore shall be ashamed of me and of my words in this adulterous and sinful generation; of him also shall the Son of man be ashamed, when he cometh in the glory of his Father with the holy angels.
I Corinthians 2:9 KJV But as it is written, Eye hath not seen, nor ear heard, neither have entered into the heart of man, the things which God hath prepared for them that love him.
Titus 2:11-13 KJV For the grace of God that bringeth salvation hath appeared to all men, Teaching us that, denying ungodliness and worldly lusts, we should live soberly, righteously, and godly, in this present world; Looking for that blessed hope, and the glorious appearing of the great God and our Saviour Jesus Christ;
Philippians 2:13 KJV For it is God which worketh in you both to will and to do of his good pleasure.
Luke 12:32 KJV Fear not, little flock; for it is your Father's good pleasure to give you the kingdom.
II Chronicles 16:9 NKJV For the eyes of the Lord run to and fro throughout the whole earth, to show Himself strong on behalf of those whose heart is loyal to Him. In this you have done foolishly; therefore from now on you shall have wars."
Psalm 110:3 KJV Thy people shall be willing in the day of thy power, in the beauties of holiness from the womb of the morning: thou hast the dew of thy youth.
Matthew 6:10 KJV Thy kingdom come, Thy will be done in earth, as it is in heaven.
Revelation 12:10 KJV And I heard a loud voice saying in heaven, Now is come salvation, and strength, and the kingdom of our God, and the power of his Christ: for the accuser of our brethren is cast down, which accused them before our God day and night.
Philippians 1:6 KJV Being confident of this very thing, that he which hath begun a good work in you will perform it until the day of Jesus Christ:
John 8:36 KJV If the Son therefore shall make you free, ye shall be free indeed.
Ephesians 2:10 KJV For we are his workmanship, created in Christ Jesus unto good works, which God hath before ordained that we should walk in them.
Psalm 119:130 KJV The entrance of thy words giveth light; it giveth understanding unto the simple.
Matthew 26:53 NIV Do you think I cannot call on my Father, and he will at once put at my disposal more than twelve legions of angels?
John 21:17 KJV He saith unto him the third time, Simon, son of Jonas, lovest thou me? Peter was grieved because he said unto him the third time, Lovest thou me? And he said unto him, Lord, thou knowest all things; thou knowest that I love thee. Jesus saith unto him, Feed my sheep.
John 21:15 KJV So when they had dined, Jesus saith to Simon Peter, Simon, son of Jonas, lovest thou me more than these? He saith unto him, Yea, Lord; thou knowest that I love thee. He saith unto him, Feed my lambs.