Pastor Jim & Lori Bakker welcome Sid Roth as they discuss the connection between the Jew and the Gentile for Day 1 The Jim Bakker anzeigen.
Zitate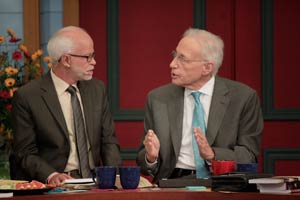 "The food for your spirit is the Bible. Why should you walk around starving everyday?" – Sid Roth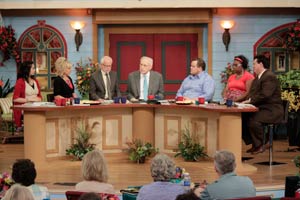 "I believe with every fiber of my being that the dividing line of the true church and the counterfeit church in the last days will be your position on the Jew and Israel." – Sid Roth
Narrative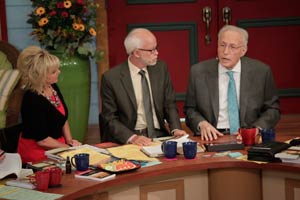 Pastor Jim and Lori Bakker welcomed Sid Roth, host of the TV program "It's Supernatural" and author of "They Thought for Themselves." Pastor Jim shared how he wanted to use the title "Rabbi" but Mr. Roth refused to accept it explaining the word "Rabbi" means exalted teacher and Jesus, not he, was the exalted teacher. Pastor Jim then stated how humble his guest was and very different from other famous people who turn out not to be as marvelous in person as portrayed in their public image. He then said he finds his friend Sid Roth truly amazing and added that he loves his television program.
The two discussed "The Harbinger" and the fact that author Rabbi Jonathan Cahn appeared on "It's Supernatural" long before the release of his book. Herr. Roth wanted him on the show because he truly believed the message came from God. In line with divine warnings, Sid told of a dream in which he spoke the words "Jesus is coming back soon" three times just prior to waking up. He took it as a sign that God gave him a passion to spread that message far and wide, particularly to Jewish people.
He travels the world targeting cities with large Jewish populations and places ads in Jewish newspapers explaining that he, an Israeli-American citizen, has studied the paranormal for more than 30 years and will present findings in a public lecture. By design, the sales pitches do not mention his Christian faith or Jesus since most Jews would be turned off by that and not attend. He was unsure how his first meeting would go, but more than 400 people showed up and many of them, after listening and hearing his message, accepted Jesus afterward.
Herr. Roth has a great love for his people who face punishment because of their rejection of Jesus, but he firmly believes the Bible's prophecies that, even in their rebellion, his people serve as blessings to the rest of the nations. Once they submit to, and accept, Jesus as the Messiah, sagte er, more favor will come to them and through them, to the rest of the world. Pastor Jim noted that Jews are coming to Jesus by the thousands. Herr. Roth agreed and added that many of them are having life changing dreams about Jesus.
The host of "It's Supernatural" explained that those who want to escape deception at this time must comprehend the plan God has for the Jewish people and Israel. They must also recognize and act on the Biblical command found in Romans 11:11 zu "provoke Jews to jealousy" and find ways to make them yearn to walk in God's presence.
Schrift
I Samuel 3:19 NKJV So Samuel grew, and the Lord was with him and let none of his words fall to the ground.
Offenbarung 13:1 KJV And I stood upon the sand of the sea, und sah ein Tier aufsteigen aus dem Meer, der hatte sieben Häupter und zehn Hörner, und auf seinen Hörnern zehn Kronen, und auf seinen Köpfen Namen der Lästerung.
II Korinther 11:4 KJV Denn wenn er kommt, dass einen anderen Jesus predigt, den wir nicht gepredigt haben, oder wenn ihr einen anderen Geist empfangt, was ihr nicht empfangen, oder ein anderes Evangelium, was ihr nicht akzeptiert, ihr vielleicht gut mit ihm tragen.
Römer 11 – Israel and the Gentiles
Ich John 2:15 KJV Love not the world, weder die Dinge, die in der Welt sind. Wenn jemand die Welt lieben, die Liebe des Vaters nicht in ihm.
Matthew 6:24 KJV Niemand kann zwei Herren dienen: denn entweder wird er den einen hassen, und den anderen lieben; oder er wird zu dem einen halten, und den andern verachten. Ihr könnt nicht Gott dienen und dem Mammon.
Römer 11:12 NCV The Jews' failure brought rich blessings for the world, und die Juden' loss brought rich blessings for the non-Jewish people. So surely the world will receive much richer blessings when enough Jews become the kind of people God wants.
Römer 10:14 KJV How then shall they call on him in whom they have not believed? and how shall they believe in him of whom they have not heard? and how shall they hear without a preacher?
Römer 11:11 KJV I say then, Have they stumbled that they should fall? Gott bewahre: but rather through their fall salvation is come unto the Gentiles, for to provoke them to jealousy.
Sacharja 14:2 KJV Denn ich werde alle Heiden wider Jerusalem sammeln zum Streit; und die Stadt wird erobert werden, und die Häuser werden geplündert, und die Frauen geschändet; und die Hälfte der Stadt wird in die Gefangenschaft, und der Rest des Volkes wird nicht aus der Stadt ausgerottet werden.
I Corinthians 1:22 KJV Für die Juden Zeichen fordern, und die Griechen nach Weisheit:
Joel 2:28 NKJV "Und es wird sich hernach, dass ich über alles Fleisch von meinem Geist ausgießen; Und eure Söhne und eure Töchter sollen weissagen, Eure Alten sollen Träume haben, Eure Jünglinge sollen Gesichte sehen.
Luke 21:24 KJV Und sie werden durch die Schärfe des Schwertes fallen, und gefangen geführt unter alle Völker werden: und Jerusalem wird zertreten werden von den Heiden, bis die Zeiten der Heiden erfüllt werden.
Joel 3:2 NCV I will gather all the nations together and bring them down into the Valley Where the Lord Judges. Dort werde ich über sie urteilen, weil diese Völker zerstreut mein eigenes Volk Israel und zwang sie, in anderen Ländern leben. Sie teilten sich mein Land
Levitikus 25:23 KJV das Land nicht verkaufen für immer: für das Land ist mein, denn ihr seid Fremdlinge und Gäste vor mir.
Psalmen 105:8-11 KJV He hath remembered his covenant for ever, the word which he commanded to a thousand generations. Which covenant he made with Abraham, and his oath unto Isaac; And confirmed the same unto Jacob for a law, and to Israel for an everlasting covenant: Spruch, Unto thee will I give the land of Canaan, the lot of your inheritance:
Obadiah 1:15 KJV For the day of the Lord is near upon all the heathen: wie hast du getan?, es wird dir getan werden: dein Lohn wird auf deinen Kopf zurück.
Joel 3:2 KJV werde ich alle Nationen versammeln, und bringt sie ins Tal Josaphat, und will mit ihnen daselbst plädieren für mein Volk und für mein Erbe Israel, weil sie es unter die Heiden zerstreut, und trennten sich mein Land.