Pastor Jim & Lori Bakker welcome Sid Roth as they discuss the connection between the Jew and the Gentile for Day 1 The Jim Bakker Show.
Cytaty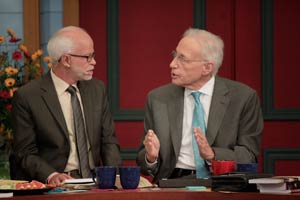 "The food for your spirit is the Bible. Why should you walk around starving everyday?" – Sid Roth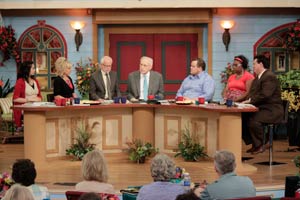 "I believe with every fiber of my being that the dividing line of the true church and the counterfeit church in the last days will be your position on the Jew and Israel." – Sid Roth
Opowiadanie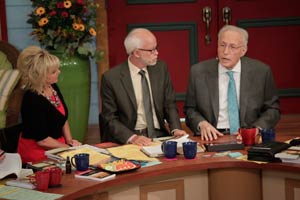 Pastor Jim and Lori Bakker welcomed Sid Roth, host of the TV program "It's Supernatural" and author of "They Thought for Themselves." Pastor Jim shared how he wanted to use the title "Rabbi" but Mr. Roth refused to accept it explaining the word "Rabbi" means exalted teacher and Jesus, not he, was the exalted teacher. Pastor Jim then stated how humble his guest was and very different from other famous people who turn out not to be as marvelous in person as portrayed in their public image. He then said he finds his friend Sid Roth truly amazing and added that he loves his television program.
The two discussed "The Harbinger" and the fact that author Rabbi Jonathan Cahn appeared on "It's Supernatural" long before the release of his book. Panie. Roth wanted him on the show because he truly believed the message came from God. In line with divine warnings, Sid told of a dream in which he spoke the words "Jesus is coming back soon" three times just prior to waking up. He took it as a sign that God gave him a passion to spread that message far and wide, particularly to Jewish people.
He travels the world targeting cities with large Jewish populations and places ads in Jewish newspapers explaining that he, an Israeli-American citizen, has studied the paranormal for more than 30 years and will present findings in a public lecture. By design, the sales pitches do not mention his Christian faith or Jesus since most Jews would be turned off by that and not attend. He was unsure how his first meeting would go, but more than 400 people showed up and many of them, after listening and hearing his message, accepted Jesus afterward.
Panie. Roth has a great love for his people who face punishment because of their rejection of Jesus, but he firmly believes the Bible's prophecies that, even in their rebellion, his people serve as blessings to the rest of the nations. Once they submit to, and accept, Jesus as the Messiah, powiedział, more favor will come to them and through them, to the rest of the world. Pastor Jim noted that Jews are coming to Jesus by the thousands. Panie. Roth agreed and added that many of them are having life changing dreams about Jesus.
The host of "It's Supernatural" explained that those who want to escape deception at this time must comprehend the plan God has for the Jewish people and Israel. They must also recognize and act on the Biblical command found in Romans 11:11 do "provoke Jews to jealousy" and find ways to make them yearn to walk in God's presence.
Pismo Święte
Samuela 3:19 NKJV So Samuel grew, and the Lord was with him and let none of his words fall to the ground.
Objawienie 13:1 KJV And I stood upon the sand of the sea, i zobaczył powstanie bestia z morza, mający siedem głów i dziesięć rogów, a na rogach jego dziesięć koron, , a na głowach jego nazwa bluźnierstwo.
II List do Koryntian 11:4 KJV For if he that cometh preacheth another Jesus, których my nie głosił, lub gdy przyjmujecie innego ducha, co wy nie otrzymali, lub inną ewangelię, co wy nie akceptowane, wy może również nosić ze sobą.
Rzymianie 11 – Israel and the Gentiles
Jana 2:15 KJV Love not the world, ani tych rzeczy, które są na świecie. Jeśli kto miłuje świat, miłość Ojca nie ma w nim.
Matthew 6:24 KJV Nikt nie może dwom panom służyć: Gdyż albo jednego będzie nienawidził, i kochać innych; albo z tamtym będzie trzymał się do jednego, , a drugim wzgardzi. Nie możecie służyć Bogu i mamonie.
Rzymianie 11:12 NCV The Jews' failure brought rich blessings for the world, and the Jews' loss brought rich blessings for the non-Jewish people. So surely the world will receive much richer blessings when enough Jews become the kind of people God wants.
Rzymianie 10:14 KJV How then shall they call on him in whom they have not believed? and how shall they believe in him of whom they have not heard? and how shall they hear without a preacher?
Rzymianie 11:11 KJV I say then, Have they stumbled that they should fall? God forbid: but rather through their fall salvation is come unto the Gentiles, for to provoke them to jealousy.
Zachariasz 14:2 KJV For I will gather all nations against Jerusalem to battle; and the city shall be taken, and the houses rifled, and the women ravished; and half of the city shall go forth into captivity, and the residue of the people shall not be cut off from the city.
I List do Koryntian 1:22 KJV For the Jews require a sign, and the Greeks seek after wisdom:
Joel 2:28 NKJV "And it shall come to pass afterward That I will pour out My Spirit on all flesh; Your sons and your daughters shall prophesy, Your old men shall dream dreams, Your young men shall see visions.
Luke 21:24 KJV And they shall fall by the edge of the sword, i będą uprowadzeni do niewoli u wszystkich narodów: a Jerozolima będzie deptana przez pogan, , aż czasy pogan być spełnione.
Joel 3:2 NCV I will gather all the nations together and bring them down into the Valley Where the Lord Judges. There I will judge them, because those nations scattered my own people Israel and forced them to live in other nations. They divided up my land
Księga Kapłańska 25:23 KJV The land shall not be sold for ever: na ziemi jest moje, bo jesteście obcymi i przychodniami ze mną.
Psalmy 105:8-11 KJV He hath remembered his covenant for ever, the word which he commanded to a thousand generations. Which covenant he made with Abraham, and his oath unto Isaac; And confirmed the same unto Jacob for a law, and to Israel for an everlasting covenant: Saying, Unto thee will I give the land of Canaan, the lot of your inheritance:
Abdiasza 1:15 KJV For the day of the Lord is near upon all the heathen: as thou hast done, it shall be done unto thee: thy reward shall return upon thine own head.
Joel 3:2 KJV I will also gather all nations, i przyniesie je w dół do doliny Jozafata, i będą błagać nich dla moich ludzi i dziedzictwa mego Izraela, któremu one rozproszone wśród narodów, i rozstaliśmy się mojej ziemi.