Pastor Jim & Lori Bakker and Tammy Sue Bakker discuss the Power of the Tongue for Day 2 Auf der Jim Bakker Zeigen.
Songs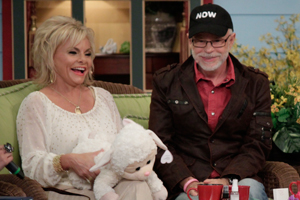 Es ist ein Fluss
Zitate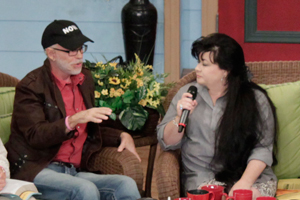 "If you live in this world, there's gonna be warfare." -Pastor Jim Bakker
Narrative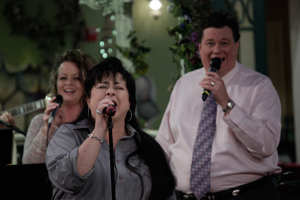 Pastor Jim und Lori Bakker welcomed guest Tammy Sue Bakker and discussed the topic of spiritual warfare and trials. Pastor Jim brought up the many trying experiences his daughter went through during her years as a child and young woman. Tammy Sue recalled how people would say insulting things about her family right to her face. She also remembers churches canceling her singing engagements because her parents went through a divorce. Lori said she only knows certain details of the Bakker family's struggles because of her marriage to Pastor Jim, but she described the abuse and cruelty experienced as "horrific." Although the family refuses to make specific details public, Lori credits the prayers of the saints as the reason the Bakkers made it through and still survive to this day.
Pastor Jim reminded all that fighting battles should be a regular part of life for those who stand for righteousness. He updated the status of Lori's House in light of the setback that came from 15 people signing a petition to stop construction of the facility. Selection of a new site has already taken place; a location near the tabernacle and garden, and overlooking a quiet stream. Pastor Jim recalled how Lori foretold that strong opposition would come against the home, the same way controversy followed her in the past any time she moved forward with plans to raise awareness about the negative and traumatizing effects of abortion.
Plans are in the works to revive her "Lori's Mourning to Joy Ministry" which helps women who have experienced an abortion to heal, share their stories and pains and find comfort among women of like mind. Lori cited statistics that 4000 babies die as a result of abortion everyday and that one in four women have undergone the medical procedure. She then called attention to Master's Media student Melody Hayes whose mother intended to abort her after carrying her in the womb for four months. On her way into the abortion clinic, a polite and respectful woman approached the young mother-to-be and asked if she would reconsider her options if a family were found to adopt the child. The woman agreed and went on to have the child who then was adopted by Pastor Cedric Hayes and his wife. Jetzt, Melody plans to work alongside Lori after the completion of Lori's House.
Pastor Jim said construction will continue as he relies on God to provide the additional funds needed to clear out rock from the site so that laying of the house's foundation can take place. He went on to say his wife needs to be the town crier when it comes to speaking out about abortion and telling her own gripping, personal story.
Scripture
Hebräer 13:5 Denn er hat gesagt,, "Das werde ich nie, nie, dich nie verlassen und ich werde nie, nie, nie im Stich lassen."
Psalm 23:4 KJV Yea, obwohl ich durch das Tal der Schatten des Todes, Fürchte ich kein Unglück: denn du bist bei mir; dein Stecken und Stab trösten mich.
Epheser 2:8-9 Elberfelder Yea, obwohl ich durch das Tal der Schatten des Todes, Fürchte ich kein Unglück; For You sind with me; Dein Stecken und Stab, sie trösten mich.
Epheser 6:11 KJV Put on the whole armour of God, that ye may be able to stand against the wiles of the devil.
Philipper 3:20 NKJV For our citizenship is in heaven, from which we also eagerly wait for the Savior, the Lord Jesus Christ,
Hebräer 12:6 KJV Denn wen der Herr liebt, den züchtigt er, und schlägt jeden Sohn, den er aufnimmt.
I Peter 5:7 KJV Casting all your care upon him; for he careth for you.
Matthew 7:26-27 KJV And every one that heareth these sayings of mine, and doeth them not, shall be likened unto a foolish man, which built his house upon the sand: And the rain descended, and the floods came, and the winds blew, and beat upon that house; and it fell: and great was the fall of it.
Lamentations 3:23 KJV They are new every morning: great is thy faithfulness.
Sprüche 24:11-12 NCV Speichern denen, die zu ihrem Tod geführt; retten diejenigen, die getötet werden sollen. Wenn Sie sagen,, "Wir wissen nichts über diese," Gott, wer weiß, was in deinem Kopf, werden feststellen,. Er is watching you, und er wird wissen,. Er wird jede Person für das, was er getan hat, belohnen.
I Corinthians 5:8 KJV Therefore let us keep the feast, not with old leaven, neither with the leaven of malice and wickedness; but with the unleavened bread of sincerity and truth.
Prediger 3:4 KJV A time to weep, and a time to laugh; a time to mourn, and a time to dance;
Römer 8:28 KJV Und wir wissen, dass alle Dinge zum Besten dienen, denen, die Gott lieben,, zu ihnen, die die nach seinem ewigen Plan berufen.