Pastor Jim & Lori Bakker welcome Rabbi Jonathan Cahn as he reveals Further Harbinger Mysteries for Day 2 on The Jim Bakker Mostra.
Canzoni
C'è qualcosa in quel nome
Citazioni
"American's distress is like a gardener having a weed. I am going to solve it by cutting off the stem and cutting off the flower. The weed will keep coming back." -Rabbi Jonathan Cahn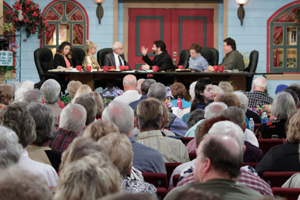 "The whole point of 9/11 is that without God it just does not work." -Rabbi Jonathan Cahn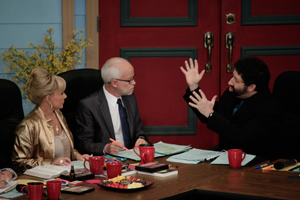 "I do not call myself a prophet, I just hear from God occasionally." -Pastor Jim Bakker
Narrative
9/11 was not the end of this, but rather just the beginning. The mystery further goes on to affect the economy, to Wall Street, to the Federal Reserve to our future. Everything from the Harbingers is linked through the fact that ancient Israel got the warning, but they rejected the warning. God was trying to call them. The first calamity did not get their attention, so he further went on to allow more calamities to come and was still attempting to get their attention. When Israel rejected the first warning, another warning came, and another warning and finally the judgment was sent. America thinks that they will do so much to rebuild, but without God they will do nothing. Piuttosto, America will cause judgment on herself for her lack of obedience to God.
In September of 2008, the economy collapsed. America still lies in the shadow of this financial disaster. The first time it was a physical attack, but this time it was the power of America, it's very financial core. There was actually an event that triggered it, which most people do not know about. The Federal Reserve rushed to New York City in September and had a meeting with Wall Street leaders. The decision was made to let Lehman Brothers fall and to let the market crash.
Dopo 9/11 America made the same foolish choice that Israel did, they decided to fight this thing rather than realize it was a warning. The whole point of 9/11 is that without God it just does not work. Ancient principals remind us that whatever we try to do will backfire unless we turn back to God. America did the same thing that Israel did. Israel built up their walls and America strengthened the security systems. In return America's choices created the greatest debt we have ever had in our nation and our economy is in dire straits.
Americans do not want to hear what is coming. A lot of times Pastor Jim Bakker feels like a voice crying in the wilderness because many do not listen. While Pastor Jim does not want to be a prophet of doom, we must understand that if we do not listen to the voice of God and his warnings, America will be in trouble. The leadership in American wants to bring good news to the people and a message of hope. Infatti, the exact opposite is going on and most of the administration is aware of this.
America needs to wake up and ask forgiveness to God for banning prayer in schools. Dobbiamo essere pronti. There are countries that hate America with a passion. All it would take is one bomb and all of our systems would go down. What are we going to do when the web doesn't work, the lights are gone and the trucks are not running? We have no control over anything, including the weather. Pastor Jim is overwhelmed by the outbreak of tornados this season. We must get ready. We know the Word is truth and we must do what we can to prepare. The time of the closing of the gate is at hand.
Scritture
Genesi 50:20 LND Ma voi, avevate pensato del male contro di me; ma Dio ha pensato al bene, fare avverare, come è questo giorno, per salvare in vita un popolo.
John 3:16 La Sacra Perché Dio ha tanto amato il mondo, da dare il suo Figlio unigenito, affinché chiunque crede in lui non muoia,, ma abbia vita eterna.
Isaia 9:10 ESV "I mattoni sono caduti, ma noi costruiremo con pietre squadrate; i sicomori sono stati tagliati, ma noi metteremo cedri al loro posto. "
Isaia 9:10 NKJV "The bricks have fallen down, But we will rebuild with hewn stones; The sycamores are cut down, But we will replace loro with cedars."
Isaia 9:10 NIV "I mattoni sono caduti in basso, ma noi ricostruiremo con pietre squadrate; gli alberi di fico sono stati abbattuti, ma noi li sostituiremo con cedri. "
Deuteronomio 28:1-14 – Benedizioni per ubbidire a Dio.
Deuteronomio 28:15-68 – Maledice per aver disobbedito Dio
Deuteronomio 28:64 LND E il Signore ti disperderà fra tutti i popoli, da un'estremità della terra sino all'altra; e ci sarai servire altri dèi, che né tu né i tuoi padri hanno conosciuto, anche legno e pietra.